A Haven for Nature and Adventure
Nestled amidst the rugged Hajjar Mountains in the UAE, Hatta Wadi Hub is a hidden gem that offers the perfect escape from the hustle and bustle of city life.Located approximately.This scenic location, located 115 kilometres southeast of Dubai, is becoming more and more well-liked among visitors and locals due to its breathtaking natural beauty, outdoor activities, and cultural experiences.. From thrilling adventures to tranquil landscapes, the Hattawadi hub has something for everyone. The Hattawadi hub is blessed with a diverse range of sights that captivate visitors from the moment they arrive. Dramatic mountain ranges, rocky terrain, and abundant greenery create a surreal backdrop that invites exploration. One of the main attractions is Hatta Dam, a serene reservoir surrounded by towering mountains. Visitors can rent kayaks or paddleboards to explore the calm waters, or simply relax and enjoy the peaceful surroundings. For adventure enthusiasts, Hatta Wadi Hub offers a plethora of thrilling activities. With trails for all skill levels, mountain biking is especially well-liked.
The rocky terrain presents an exciting challenge for experienced riders, while beginners can enjoy the scenic routes that wind through the mountains. Another well-liked activity is hiking or trekking, which enables travellers to find undiscovered pathways, identify unusual flora and animals, and take in breath-taking panoramic views.
One of the standout attractions of Hatta Wadi Hub is the Hatta Mountain Safari. Visitors can embark on an adrenaline-pumping off-road adventure, hopping into 4×4 vehicles to explore the rugged terrains and wadis (dry riverbeds) of the region. Experienced drivers navigate through the challenging terrain, taking passengers on an exhilarating ride through the mountains and showcasing the natural beauty of the area. Hatta Wadi Hub offers chances for picnicking, camping, and even glamping for those seeking a more laid-back experience.
Spend a day surrounded by nature, enjoying a delicious meal with family and friends, or opt for a night under the stars in a luxury tent, complete with modern amenities and stunning views. The sunsets in the evenings are especially beautiful because they paint the landscape with a stunning array of colours while also casting long shadows across the mountain ranges.
Hatta Wadi Hub offers cultural events that emphasise the area's rich legacy in addition to its natural attractions. The Hatta Heritage Village is a must-visit, where visitors can step back in time and explore traditional Emirati architecture, museums, and handicraft stores. Hatta Wadi Hub is a hidden gem in the United Arab Emirates, offering a unique blend of adventure, culture, and natural beauty. Visitors can find everything from adrenaline-pumping activities to serene landscapes, all within a short drive from Dubai.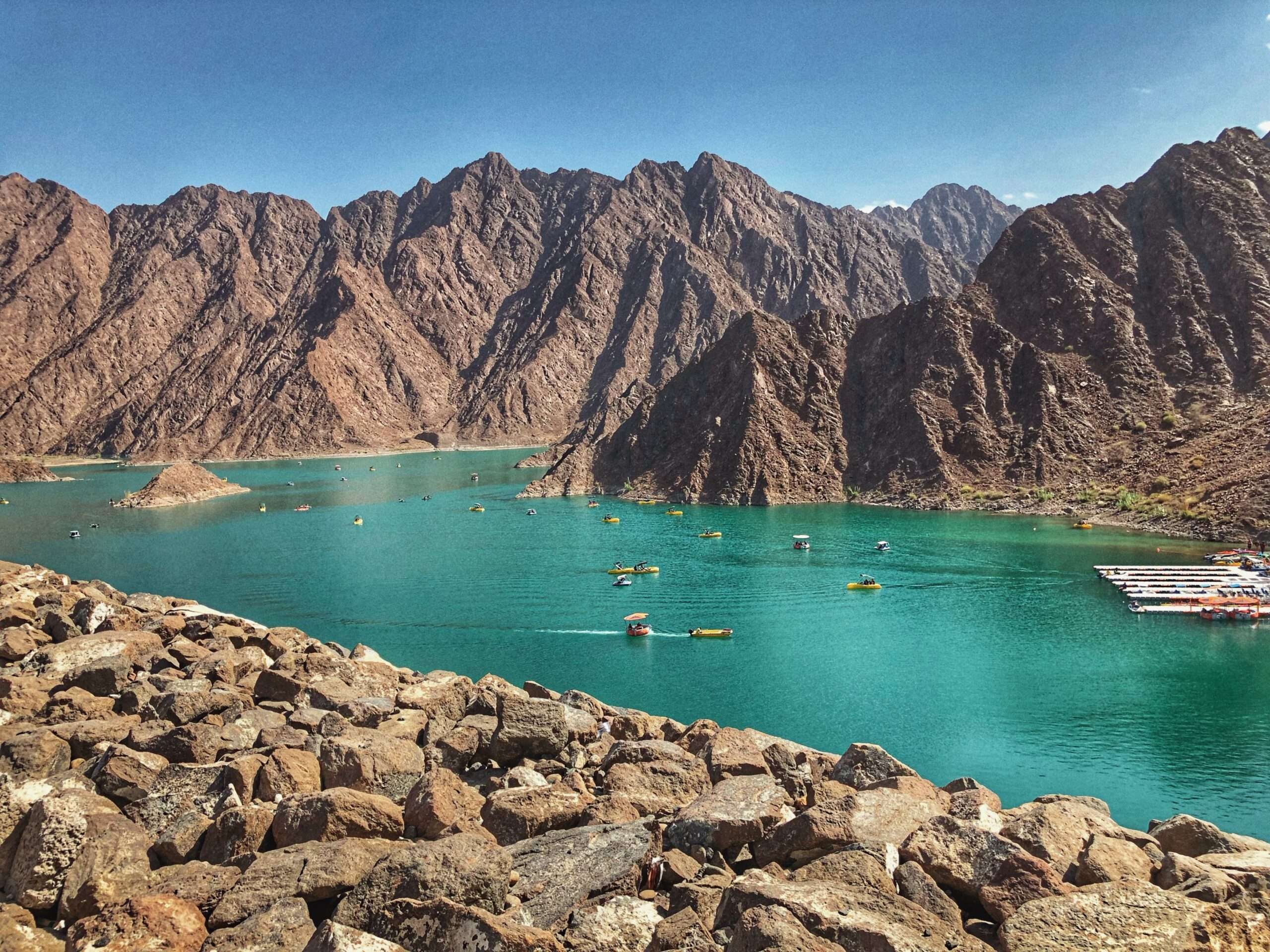 Hatta Wadi Hub is a testament to the UAE's commitment to preserving its natural beauty and promoting sustainable tourism. Efforts have been made to ensure that the development of the area is in harmony with its surroundings, allowing visitors to experience its wonders while minimizing any impact on the environment.
One of the main attractions at Hatta Wadi Hub is the Hatta Dam, a serene reservoir surrounded by towering mountains.Visitors can explore the calm waterways by renting kayaks or paddleboards, or they can just unwind and take in the peace and quiet of the surroundings. Numerous hiking and bike trails are available for those looking for a more active experience.
There is something for everyone because the trails range in intensity from straightforward to severe.Mountain biking is particularly popular, with trails catering to different skill levels. In the evenings, the Hatta Dam is transformed into a magical setting, as the mountain ranges cast long shadows and the golden hues of the sunset paint the landscape in a captivating display of colors.
This is a truly special time to be at Hatta Wadi Hub, and it is a great opportunity to capture some stunning photos. In addition to its natural beauty, Hatta Wadi Hub is also home to a rich cultural heritage. Visitors can learn about traditional customs and craftsmanship, and gain a deeper appreciation for the history of the area. The Hatta Wadi Hub Visitor Center provides information about the region, guided tours, and even a bike rental service.
In addition, there are numerous dining establishments that serve a variety of regional and foreign cuisines to suit every taste. Whatever your interests—adventure, environment, or culture—Hatta Wadi Hub has something exceptional to offer. Hatta Wadi Hub need to be at the top of your list if you're seeking for a getaway from the city and an opportunity to re-establish a connection with nature. Get ready to be amazed by its stunning beauty and immerse yourself in a memorable experience.
Here are some additional unique details about Hatta Wadi Hub: The Hatta Dam is the highest dam in the United Arab Emirates. Hatta is home to a number of rare and endangered species, including the Arabian tahr, the Arabian leopard, and the sand gazelle. The Hatta Wadi Hub Visitor Center is housed in a traditional mudbrick building. There are a number of traditional villages located in Hatta, where visitors can learn about the local culture and way of life. Hatta is a popular destination for birdwatching, with over 200 species of birds recorded in the area.
Things To Do In Hatta Tour
There are a lot of fun and exhilarating things to do on the Hatta tour. The list is extensive, but we're attempting to describe some of the top activities that visitors to Hatta Dubai love to partake in and find enjoyable here.
Which are:
Experience kayaking at Hatta Dam Yep, you heard correctly. All of you who prefer an adventurous lifestyle will have the possibility to experience kayaking in the serene and opulent waters of the Hatta Dam while being in awe of the area's grandeur.

Hatta's dam is one of the best attractions, with stunning surroundings and azure water that will take your breath away. Don't miss the chance to enjoy Hatta Kayak with your friends and family here. 



Go to the Hatta Historic Village.Hatta is a place that will take you back in time with its amazing antiques and ancient buildings. It's almost like travelling back in time to experience the remarkable way of life of the Hatta people in the 18th century. Every year, a wide variety of cultural activities are held here to preserve the distinctive atmosphere of the place. You might have the chance to view magnificent historical artefacts, such as their tools and weapons.


Enjoy the breathtaking Hatta Hill Park. Hatta Hill Park is the ideal location for a serene and picturesque outing.It is the perfect place for spending time together because it is located at a mountain's peak.Because of this, your picnic will be more than simply a regular outing. to the abundance of sheltered huts where you can enjoy BBQ and the breathtaking scenery and lush greenery surrounding you
An Exciting Mountain Safari in Hatta If you're a thrill-seeker and explorer looking to cram your trip with adventure, have a spectacular mountain safari here in Hatta Dubai. Beginners and experienced hikers alike can find a trail that suit them. One can discover Hatta's beauty in an incredibly distinctive way by using Blue Planet Tourism.