Global Village Dubai: A World of Wonder
If you are seeking a unique and unforgettable experience in Dubai, Global Village is a destination not to be missed. It is a one-of-a-kind place that brilliantly showcases the best of culture, entertainment, shopping, and cuisine from around the world. In this blog post, we will address some of the most common questions people have about Global Village Dubai and provide you with valuable tips to enhance your visit.
What is Global Village Dubai?
Global Village Dubai is the world's largest tourism, leisure, shopping, and entertainment project. It is a seasonal event that runs from October to April every year. It features 27 pavilions that represent more than 75 countries with different cultures. You can explore the traditional handicrafts, food, and performances of each country at the themed pavilions. You can also enjoy a variety of attractions, such as Carnaval, Ripley's Believe It Or Not!®, Mini World, and more. Global Village Dubai attracts over 5 million visitors every year and offers more than 40,000 shows and activities.
Where is Global Village Dubai located and how to get there?
Global Village Dubai is located at Exit 37, Sheikh Mohammed Bin Zayed Road and Emirates Road, Dubai, UAE. You can find it on Google MapsAd1. There are several ways to get there, depending on your preference and budget. You can take a taxi, which will cost you around AED 50-70 from the city center. You can also take a bus from various locations in Dubai, such as Al Ghubaiba Bus Station, Union Metro Station, Etisalat Metro Station, and Mall of the Emirates Metro Station. The bus fare is AED 10 per person. You can also book a private transfer or a guided tour that includes Global Village Dubai tickets and transportation.
When is Global Village Dubai open and how much does it cost?
Global Village Dubai is open from 18 October 2023 to 28 April 2024. The opening hours are from 4 PM to 12 AM from Monday to Thursday, and from 4 PM to 1 AM from Friday to Sunday. Tuesdays are reserved for families and ladies only, unless it falls on a public holiday. The entry ticket price is AED 30 per person, which gives you access to all the pavilions and shows. You can buy the tickets online or at the gate. There are also some packages that include additional attractions or services, such as Stunt Show, Ripley's Believe It Or Not! Carnaval rides, or meals.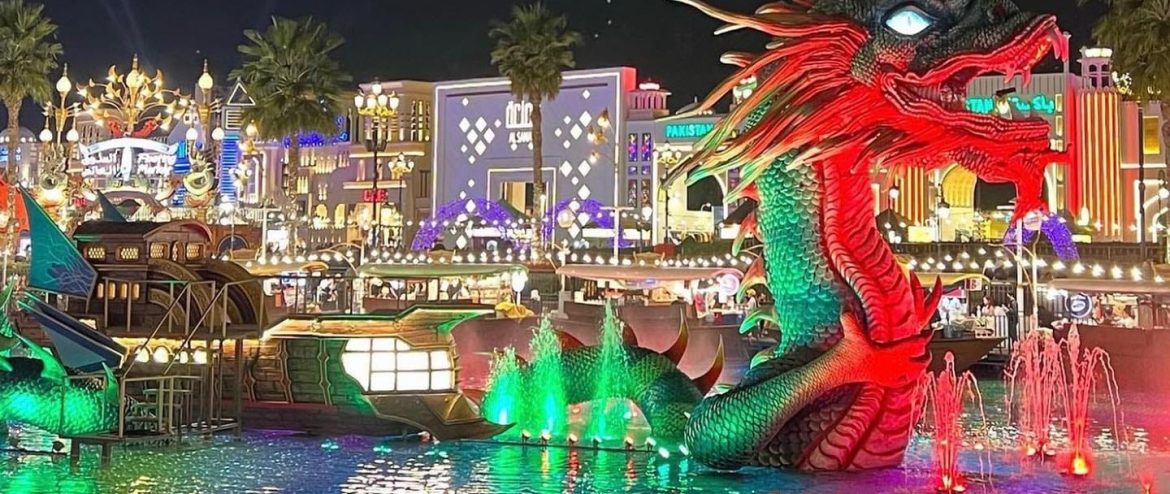 What are the best things to do at Global Village Dubai?
There are so many things to do at Global Village Dubai that you might need more than one visit to explore them all. Here are some of the highlights that you should not miss:
Visit the MENA pavilions: The Middle East and North Africa pavilions showcase the rich and diverse heritage of this region. You can find exquisite carpets from Iran, fragrant spices from Morocco, delicious dates from Saudi Arabia, colorful lanterns from Egypt, and more.
Visit the Far East pavilions: The Far East pavilions offer a glimpse into the fascinating cultures of Asia. You can admire the intricate handicrafts from India, Pakistan, China, Japan, Korea, Thailand, Vietnam, and more. You can also taste the authentic flavors of these cuisines at the food stalls.
Enjoy Carnaval: Carnaval is a thrilling experience with over 175 rides, games, and attractions for all ages. You can ride the Ferris wheel, roller coaster, bumper cars, haunted house, and more. You can also test your skills at the arcade games and win prizes.
Explore Ripley's Believe It Or Not!®: Ripley's Believe It Or Not!® is a museum of oddities and curiosities that will amaze you with its collection of bizarre artifacts and exhibits. You can see shrunken heads, vampire skulls, two-headed animals, optical illusions, and more.
Discover Mini World: Mini World is a new attraction that lets you travel around the world in miniature. You can see the replicas of famous landmarks and monuments from different countries, such as Eiffel Tower, Taj Mahal, Statue of Liberty, Burj Khalifa, and more.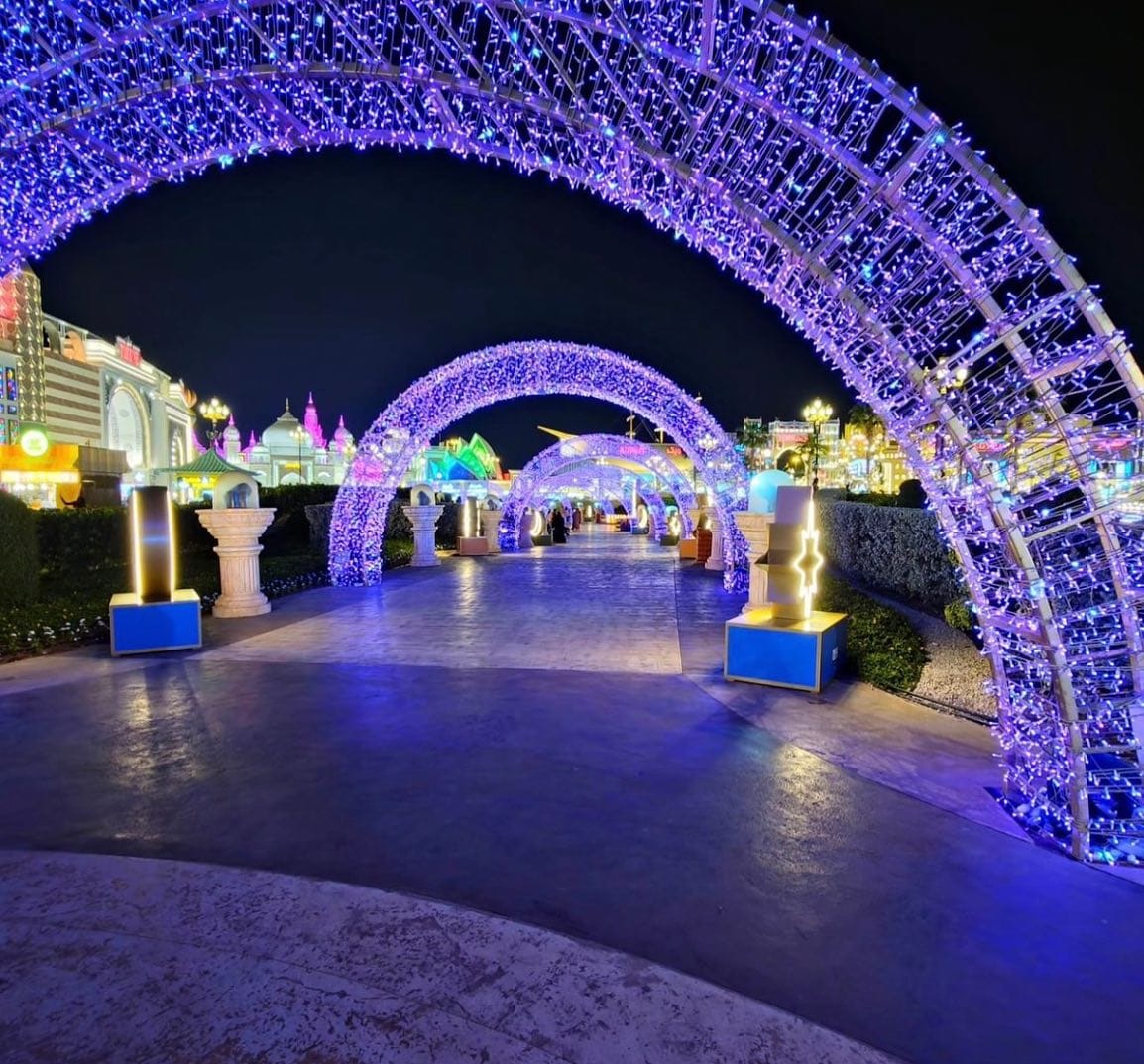 What are some tips for visiting Global Village Dubai?
To make your visit to Global Village Dubai more enjoyable and hassle-free, here are some tips that you should keep in mind:
Plan your visit in advance: Check the website or social media pages of Global Village Dubai for the latest updates on the events and attractions. You can also download the app for more information and convenience.
Dress appropriately: Wear comfortable clothes and shoes that suit the weather and the activities. Also respect the local culture and dress modestly.
Bring cash: Although there are ATMs and card machines available at Global Village Dubai, it is advisable to bring some cash for the pavilions, food stalls, and games. Some vendors may not accept cards or charge extra fees.
Stay hydrated: Dubai can get very hot and dry, especially during the day. Make sure to drink plenty of water and avoid dehydration. You can find water fountains and vending machines at Global Village Dubai.
Have fun: Global Village Dubai is a place where you can experience the world in one place. Enjoy the diversity, the entertainment, the shopping, and the cuisine. Make memories that will last a lifetime.
Global Village Dubai is a must-see attraction for anyone who loves culture, adventure, and fun. It is a place where you can discover new things, meet new people, and have a great time. Don't miss this opportunity to visit Global Village Dubai and witness a world of wonder.